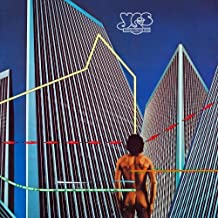 Going For The One (BLUE Vinyl)
LP (BLUE Vinyl)
Künstler: Yes
Yes: Going For The One

LP
180 Gramm audiophiles BLAUES Vinyl
US-Pressung

neu & versiegelt / new & sealed
sofort lieferbar / on stock
Label: Friday Music

Date of release: 27.01.2017
Mastered from the original Atlantic Records tapes by Joe Reagoso

After several whirlwind tours to celebrate their amazing successful run with albums such as Close to the Edge and Tales From Topographic Oceans, the legendary Yes took some time off to record several solo projects and soon got back to the studio and worked on the amazing 1977 prog-rock masterwork Going for the One.

With an ever interesting line-up of world class musicianship, this highly regarded dream team for Going for the One consisted of Jon Anderson (vocals), Chris Squire (bass/vocals), Steve Howe (guitars/vocals), Alan White on drums and the celebrated return of keyboardist Rick Wakeman, Going for the One truly stands as absolutely one of the most intriguing albums of their mega successful career.

Often considered one of the finest recordings in their amazing catalog, Yes fans continue to praise Going for the One as a truly inspiring masterwork. This important piece of music consists of five amazing Yes workouts such as the definitive side one opener "Going for the One," the fan favorite "Turn Of The Century," and of course the international smash hit "Wonderous Stories."

Yes enthusiasts were superlatively rewarded with even more progressive rock favorites with the brilliant Chris Squire composition "Parallels," and the stunning Jon Anderson and Steve Howe collaboration "Awaken," which truly made Going for the One one of the finest albums of classic rock era.

Friday Music is honored to celebrate this amazing anniversary edition by issuing it forthe first time on premium high grade translucent blue audiophile vinyl. This exceptional work is now mastered impeccably from the original Atlantic Records tapes by Joe Reagoso (Close To The Edge, Drama, Time and a Word, 90125, Relayer).

To celebrate the anniversary of this amazing album, this limited edition masterpiece ishoused in the super rare and beautiful tri-fold album cover and includes the original stunning artwork by Hipgnosis.

Tracklist:
A1 Going For The One 5:30
A2 Turn Of The Century 7:58
A3 Parallels 5:52
B1 Wonderous Stories 3:45
B2 Awaken 15:38
Plattenlabel:
Friday Music
Veröffentlichung:
27.01.2017
Artikelzustand:
neu & versiegelt
Gewicht:
180 Gramm