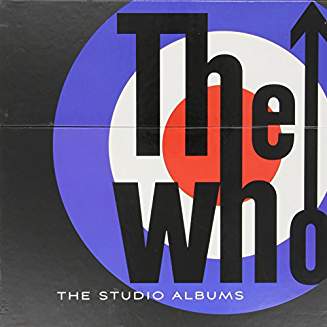 The Studio Albums
14 LP Box
Künstler: The Who
The Who: The Studio Albums
Limited Edition / out of print
14 LP Box Set
Limited edition deluxe set featuring 11 studio albums on 14 discs, from 1966's The Who Sings My Generation to 2006's Endless Wire
All albums remastered
180-gram vinyl featuring the original LP artworks
neu & versiegelt / new & sealed
sofort lieferbar / on stock
Label: Polydor (3715573)
Date of Release: 16.11.2012
Dieses limitierte Vinyl Boxset von The Who wartet mit11 Studioalben der Band im LP-Format auf. Alle Alben wurden neu gemastered von dem langjährigen Partner Jon Astley im 24-96 Format und gepresst auf Virgin 180 gram Heavyweight Vinyl.
Die Box selbst zeichnet sich durch die Darstellung in Vollfarbe mit Mattbeschichtung sowie stellenweise Hochglanzbeschichtung aus. Die Artworks selbst wurden bei den folgenden Alben wie folgt restauriert:
'Tommy' sleeve mit den originalen 6-Panel Fold-Outs und 12-seitigem Booklet, 'Face Dances' mit einem 24" x 24" Posterinsert, sowie 'The Who Sell Out'mit dem 20" x 30" Posterdruck von 1967. 'Quadrophenia' beinhaltet das aufwendige Pete Townshend und Ethan Russell Fotobuch.
Folgende Alben sind enthalten:
My Generation, A Quick One, The Who Sell Out, Tommy (double), Who's Next, Quadrophenia (double), The Who By Numbers, Who Are You, Face Dances, It's Hard, Endless Wire (double).
Mastered by Jon Astely and Miles Showell at Close to the Edge and Metropolis Studios
Lavish Set Features Original LP Artwork with Posters, Inserts, and More!

Pete Townshend's windmill guitar chords. Roger Daltrey's triumphant cries. John Entwistle's firm bass lines. Keith Moon's inhuman drumming. The Who stands alone in rock music.
Arguably the most explosive live act ever to appear on stage, propelled by one of the most staggeringly brilliant rhythm sections in all popular music, layered with deafening riffs and thunderous vocal fury, The Who transcended its original billing as "Maximum R&B" to become amongst the most musically inventive and structurally innovative bands in history.
Together, the four divergent personalities of The Who produced a hurricane. Each of them was a pioneer. Wildman Moon beat his kit with a chaotic elegance; stoic bassist Entwistle held down the center with the melodic virtuosity of a solo guitarist; raging intellectual Townshend punctuated the epic universality of his songs with the slamming of his fingers across his guitar strings; and Daltrey roared above it all with an impossibly virile macho swagger.
The group exploded conventional rhythm and blues structures, challenged pop music conventions, and redefined what was possible onstage, in the recording studio, and on vinyl. Never before or since has spiritual and intellectual brilliance sounded so gloriously furious.
Alone among the great bands, The Who has found itself at the center of every major rock event from Monterey, Woodstock, and the Isle of Wight to the Concert for Kampuchea, Live Aid, and the Concert for NYC.
In any era, The Who is a true touchstone for rock and roll greatness. The ensemble has sold over 100 million albums and won every award including Grammys, Brit Awards and Lifetime Achievement, and has been inducted into both the US Rock and Roll Hall of Fame and UK Music Hall of Fame.
Now, experience every officially recorded note on 180g LP, mastered by Jon Astley and Miles Showell at Close to the Edge and Metropolis Studios. Each record features the original artwork, including the posters, inserts, and more.
Don't pass up this limited-edition set!
Features:
- Limited Edition Box Set
- 11 Studio Albums on 14 LPs
- Pressed on 180g audiophile vinyl
- Mastered by Jon Astley and Miles Showell at Close to the Edge and Metropolis Studios!
- Featuring all of the original LP artwork with posters, inserts, more!
The Who The Studio Albums Contents:
My Generation (1965)
1. Out In the Street
2. I Don't Mind
3. The Good's Gone
4. La-La-La-Lies
5. Much Too Much
6. My Generation
7. The Kids Are Alright
8. Please, Please, Please
9. It's Not True
10. I'm A Man
11. A Legal Matter
12. The Ox
A Quick One (1966)
1. Run Run Run
2. Boris the Spider
3. I Need You
4. Whiskey Man
5. Heat Wave
6. Cobwebs and Strange
7. Don't Look Away
8. See My Way
9. So Sad About Us
10. A Quick One, While He's Away
The Who Sell Out (1967)
1. Armenia City in the Sky
2. Heinz Baked Beans
3. Mary Anne with the Shaky Hand
4. Odorono
5. Tattoo
6. Our Love Was
7. I Can See for Miles
8. I Can't Reach You
9. Medac
10. Relax
11. Silas Stingy
12. Sunrise
13. Rael
Tommy (1969) (2LP)
LP 1
1. Overture
2. It's A Boy
3. 1921
4. Amazing Journey
5. Sparks
6. Eyesight To the Blind
7. Christmas
8. Cousin Kevin
9. The Acid Queen
10. Underture
LP 2
1. Do You Think It's Alright?
2. Fiddle About
3. Pinball Wizard
4. There's A Doctor
5. Go To the Mirror!
6. Tommy Can You Hear Me?
7. Smash the Mirror
8. Sensation
9. Miracle Cure
10. Sally Simpson
11. I'm Free
12. Welcome
13. Tommy's Holiday Camp
14. We're Not Gonna Take It
Who's Next (1971)
1. Baba O'Riley
2. Bargain
3. Love Ain't For Keeping
4. My Wife
5. The Song Is Over
6. Getting In Tune
7. Going Mobile
8. Behind Blue Eyes
9. Won't Get Fooled Again
Quadrophenia (1973) (2LP)
LP 1
1. I Am the Sea
2. The Real Me
3. Quadrophenia
4. Cut My Hair
5. The Punk and the Godfather
6. I'm One
7. The Dirty Jobs
8. Helpless Dancer
9. Is It In My Head?
10. I"ve Had Enough
LP 2
1. 5.15
2. Sea and Sand
3. Drowned
4. Bell Boy
5. Doctor Jimmy
6. The Rock
7. Love, Reign O'er Me
The Who By Numbers (1975)
1. Slip Kid
2. However Much I Booze
3. Squeeze Box
4. Dreaming From the Waist
5. Imagine A Man
6. Success Story
7. They Are All In Love
8. Blue, Red and Grey
9. How Many Friends
10. In A Hand or A Face
Who Are You (1978)
1. New Song
2. Had Enough
3. 905
4. Sister Disco
5. Music Must Change
6. Trick of the Light
7. Guitar and Pen
8. Love Is Coming Down
9. Who Are You
Face Dances (1981)
1. You Better You Bet
2. Don't Let Go the Coat
3. Cache Cache
4. The Quiet One
5. Did You Steal My Money
6. How Can You Do It Alone
7. Daily Records
8. You
9. Another Tricky Day
It's Hard (1982)
1. Athena
2. It's Your Turn
3. Cooks County
4. It's Hard
5. Dangerous
6. Eminence Front
7. I've Known No War
8. One Life's Enough
9. One At A Time
10. Why Did I Fall For That?
11. A Man Is A Man
12. Cry If You Want
Endless Wire (2006) (2LP)
LP1
1. Fragments
2. A Man In a Purple Dress
3. Mike Post Theme
4. In the Ether
5. Black Widow's Eyes
6. Two Thousand Years
7. God Speaks of Marty Robbins
8. It's Not Enough
9. You Stand By Me
LP2
1. Sound Round
2. Pick Up the Peace
3. Unholy Trinity
4. Trilby's PIano
5. Endless Wire
6. Fragments of Fragments
7. We Got a Hit
8. They Made My Dream Come True
9. Mirror Door
10. Tea & Theatre
Plattenlabel:
Polydor
Veröffentlichung:
16.11.2012
Artikelzustand:
neu & versiegelt
Gewicht:
180 Gramm