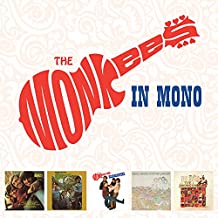 The Monkees In Mono
5 LP Boxset
Künstler: The Monkees
The Monkees: The Monkees In Mono
5 LP Boxset
includes restored MONO-Covers
180 gram audiophile Vinyl
neu & versiegelt / new & sealed
sofort lieferbar / on stock
Label: Friday Music
Date of release: 14.08.2014
The Monkees In Mono 5 LP box set
Their first five No. 1 LPs in monophonic sound on 180-gram vinyl!
Includes The Monkees, More Of The Monkees, Headquarters, Pisces, Aquarius, Capricorn & Jones Ltd., and The Birds, The Bees & The Monkees, all in mono, each packaged individual covers with the original artwork restored.
Mastered from the original Colgems Records mono tapes by Joe Reagoso.
More than 60 tracks, including such smash hits as "Last Train To Clarksville," "I'm A Believer" "Pleasant Valley Sunday," "Daydream Believer" and "I'm Not Your Stepping Stone."
In September 1966, Micky Dolenz, Davy Jones, Michael Nesmith and Peter Tork debuted as The Monkees on NBC's new Fall season line-up. Overnight success would happen in the form of a smash TV show, a No. 1 debut album The Monkees and a No. 1 hit single "Last Train To Clarksville." The Monkees were now the face of young people everywhere and they were there to stay.
The Monkees (1966) and More of The Monkees (1967) were two of the most successful albums ever released in classic rock history. The mono mixes are terrific here as you will hear nuances and slightly different mixes than their stereo counterparts. Headquarters (1967) started the Summer Of Love in 1967 at No. 1 before being knocked off by The Beatles' Sgt Pepper.
Later that year The Monkees returned the favor by replacing the Beatles in the top spot with Pisces, Aquarius, Capricorn & Jones Ltd. (1967). Both Pisces... and The Birds, The Bees & The Monkees (1968) are two of the rarest mono albums from the band, as stereo was the format of choice by 1968 and mono albums were soon discontinued.
Tracklist:
LP 1: The Monkees
(Theme From) The Monkees
Saturday's Child4
I Wanna Be Free
Tomorrow's Gonna Be Another Day
Papa Gene's Blues
Take A Giant Step
Last Train To Clarksville
This Just Doesn't Seem To Be My Day
Let's Dance On
I'll Be True To You
Sweet Young Thing
Gonna Buy Me A Dog

LP 2: More of the Monkees
She
When Love Comes Knockin' (At Your Door)
Mary, Mary
Hold On Girl
Your Auntie Grizelda
(I'm Not Your) Steppin' Stone
Look Out (Here Comes Tomorrow)
The Kind Of Girl I Could Love
Sometime In The Morning
Laugh
I'm A Believer

LP 3: Headquarters
You Told Me
I'll Spend My Life With You
Forget That Girl
Band 6
You Just May Be The One
Shade Of Gray
I Can't Get Her Off My Mind
For Pete's Sake
Mr. Webster
Sunny Girlfriend
Zilch
No Time
Early Morning Blues And Greens
Randy Scouse Git

LP 4: Pisces, Aquarius, Capricorn & Jones Ltd.
Salesman
She Hangs Out
The Door Into Summer
Love Is Only Sleeping
Cuddly Toy
Words
Hard To Believe
What Am I Doing Hangin' 'Round?
Peter Percival Patterson's Pet Pig Porky – Pleasant Valley Sunday
Daily Nightly
Don't Call On Me
Star Collector

LP 5: The Birds, The Bees & The Monkees
Dream World
Auntie's Municipal Court
We Were Made For Each Other
Tapioca Tundra
Daydream Believer
Writing Wrongs
I'll Be Back Up On My Feet
The Poster
P.O. Box 9847
Magnolia Simms
Valleri
Zor And Zam
Plattenlabel:
Friday Music
Veröffentlichung:
14.08.2014
Artikelzustand:
neu & versiegelt
Gewicht:
180 Gramm