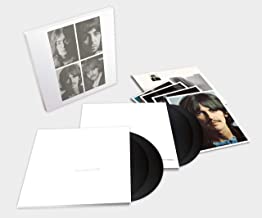 White Album (Deluxe Anniversary Edition)
4 LP Boxset
Künstler: The Beatles
The Beatles: White Album

Deluxe Anniversary Edition
4 LP Boxset
180 Gramm Vinyl, half-speed mastered

neu & versiegelt / new & sealed
sofort lieferbar / on stock
Label: Apple

Date of release: 12.09.2018
The White Album (Deluxe Anniversary Edition 4 LPs Housed in a 2 Piece Lift Off Lid Box

Album 19-times platinum sales-certified by the RIAA

Rolling Stone 500 Greatest Albums of All Time — rated 10/500!

"If you want to quickly know if you're going to like Giles Martin's The Beatles remixes start with "Long, Long, Long." If you don't like that one, you're probably not going to like the rest, but for me, that remix in particular is far superior to the one on the two original "Top Loader" U.K. pressings I have: more transparent and more spacious, with a holographic George front, center and three-dimensional as he's not presented on the original. ... Martin left mostly intact what was familiar and comfortable to long time listeners. If anything, the vocals sound richer, more velvety and more coherently believable than on the original. ...All of this said, the reissue does not sound like the original U.K. pressing nor was it intended to. Yet it remains true to the original's intent, in part because there was less Mr. Martin could do to change it." — Michael Fremer, Analogplanet.com, Oct. 23, 2018. Read the entire reivew here.

Exactly 50 years since this Beatles' self-titled LP first appeared (it went on to become better known by its unofficial name, due to its plain white cover), the Fab Four are serving up an anniversary reissue, complete with new mixes and previously unheard demos and session recordings.

The famous album's 30 tracks are newly mixed by producer Giles Martin, son of original album producer George Martin, and mix engineer Sam Okell in stereo and 5.1 surround audio, sourced directly from the original 4-track and 8-track session tapes. This new mix is complemented by 27 early acoustic demos and 50 session takes, most of which are previously unreleased in any form.

The White Album — originally intended to be called The Beatles, but got its nickname thanks to the all white cover — has a lot of hits on it. "Back in the USSR," "While My Guitar Gently Weeps," "Helter Skelter," and "Revolution 1" are just the tip of the iceberg. Every track is someone's favorite, from "Savoy Truffle" to "Dear Prudence."

This reissue represents the first time the album has been remixed and presented with additional demos and session recordings, although several were released on the group's "Anthology" collections in the 1990s. These include the outtakes "Not Guilty" and "What the New Mary Jane?" as well as early versions of John Lennon's "Child of Nature" (later released as "Jealous Guy"), Paul McCartney's "Junk" and George Harrison's "Sour Milk Sea."

"We had left Sgt. Pepper's band to play in his sunny Elysian Fields and were now striding out in new directions without a map," says Paul McCartney in his written introduction for the new White Album release.

Presented in a lift-top box with a four-page booklet, the limited edition Deluxe 4LP vinyl set presents the 180-gram 2LP album in a faithful, embossed reproduction of its original gatefold sleeve with the fold-out poster and portrait photos, paired with the 2LP Esher Demos in an embossed gatefold sleeve.

The White Album was the first Beatles album to be released on the group's own Apple Records label. Issued in both stereo and mono for the U.K. and in stereo for the U.S., the double album was an immediate bestseller, entering the British chart at number one and remaining there for eight of the 22 weeks it was listed. The White Album also debuted at number one on the U.S. chart, holding the top spot for nine weeks of its initial 65-week chart run. In the U.S., The White Album is 19-times platinum-certified by the RIAA and in 2000, it was inducted into the Recording Academy's Grammy Hall of Fame, recognizing "recordings of lasting qualitative or historical significance."

Tracklist:
SIDE A
Back In The U.S.S.R.
Dear Prudence
Glass Onion
Ob-La-Di, Ob-La-Da
Wild Honey Pie
The Continuing Story Of Bungalow Bill
While My Guitar Gently Weeps
Happiness Is A Warm Gun

SIDE B
Martha My Dear
I'm So Tired
Blackbird
Piggies
Rocky Racoon
Don't Pass Me By
Why Don't We Do It In The Road?
I Will
Julia

SIDE C
Birthday
Yer Blues
Mother Nature's Son
Everybody's Got Something To Hide Except Me And My Monkey
Sexy Sadie
Helter Skelter
Long, Long, Long

SIDE D
Revolution 1
Honey Pie
Savoy Truffle
Cry Baby Cry
Revolution 9
Good Night

ESHER DEMOS

SIDE A
Back In The U.S.S.R. (Esher Demo)
Dear Prudence (Esher Demo)
Glass Onion (Esher Demo)
Ob-La-Di, Ob-La-Da (Esher Demo)
The Continuing Story Of Bungalow Bill (Esher Demo)
While My Guitar Gently Weeps (Esher Demo)

SIDE B
Happiness Is A Warm Gun (Esher Demo)
I'm So Tired (Esher Demo)
Blackbird (Esher Demo)
Piggies (Esher Demo)
Rocky Raccoon (Esher Demo)
Julia (Esher Demo)
Yer Blues (Esher Demo)

SIDE C
Mother Nature's Son (Esher Demo)
Everybody's Got Something To Hide Except Me And My Monkey (Esher Demo)
Sexy Sadie (Esher Demo)
Revolution (Esher Demo)
Honey Pie (Esher Demo)
Cry Baby Cry (Esher Demo)
Sour Milk Sea (Esher Demo)

SIDE D
Junk (Esher Demo)
Child Of Nature (Esher Demo)
Circles (Esher Demo)
Mean Mr Mustard (Esher Demo)
Polythene Pam (Esher Demo)
Not Guilty (Esher Demo)
What's The New Mary Jane (Esher Demo)

Plattenlabel:
Apple
Veröffentlichung:
12.09.2018
Artikelzustand:
neu & versiegelt
Gewicht:
180 Gramm