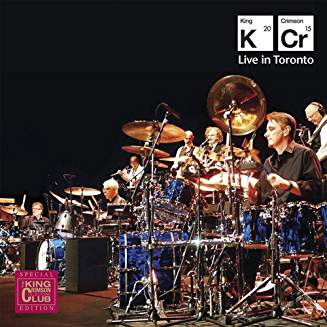 Live in Toronto - Queen Elizabeth Theatre- November 20, 2015
4 LP + DVD Boxset
Künstler: King Crimson
King Crimson: Live in Toronto 2015
Queen Elizabeth Theatre- November20, 2015
4 LP + DVD + Booklet Box
180 Gramm Vinyl
neu & versiegelt / new & sealed
sofort lieferbar / on stock
Label: DGM
Date of release: 02.06.2017
Limited edition 4 LP and DVD-Audio box set
A true classic among King Crimson live recordings
DGM & Panegyric are proud to present the first full concert release by the current lineup of King Crimson. This Official Collectors' Edition captures King Crimson on a single night in the middle of the band's Canadian tour in November 2015. With the exception of one small edit following an announcement and before the band take to the stage, the running time of this concert is exactly as it was heard in the hall by those fortunate enough to have been there. Even by the high standards set by King Crimson's current lineup, this concert was agreed by all involved to have that extra special ingredient, making it the perfect choice when seeking an official release to counter the poorly recorded bootlegs that have begun to circulate.
Featuring the recorded debut of new material such as "Meltdown" and "Radical Action," the three drummer percussion pieces "Hell Hounds of Krim" & "Banshee Legs Bell Hassle" & a variety of King Crimson classics — including material from "In The Court Of The Crimson King" performed and recorded live for the first time in decades, a return to the live set of "Easy Money" for the first time since 1974 & more recent powerhouse pieces such as "Level Five' & 'VROOOM" — all material that the seven piece King Crimson has made very much its own in an absurdly short time of touring.
Presented as 4LPs, each in its own protective inner polybag & outer album sleeve with a DVD (NTSC Region 0) featuring all audio in hi-res (Toronto material at 24/48, USA at 24/96) with 12" booklet, all contents enclosed in a rigid slipcase, presents the album in twin deluxe audio formats and with the same level of high standard packaging that has been used for the band's CD/DVD-a/Blu-ray boxed set editions.
Features:
• 4LP/1DVD Box Set
• Official Collectors' Edition
• 12" booklet
• Rigid slipcase
• DVD: NTSC Region 0
• Hi-res audio (Toronto: 24/48, USA 24/96)
Tracklist:
LP1:
A
1 Threshold Soundscape
2 Larks' Tongues In Aspic Part I
3 Pictures Of A City
B
1 VROOOM
2 Radical Action (To Unseat the Hold of Monkey Mind)
3 Meltdown

LP2:
A
1 Hell Hounds of Krim
2 The ConstruKction of Light
3 Red
B
1 Epitaph
2 Banshee Legs Bell Hassle
3 Easy Money

LP3:
A
1 Level Five
2 The Letters
3 Sailor's Tale
B
1 Starless

LP4:
A
1 The Court of the Crimson King
2 21st Century Schizoid Man
B
[Live in America 2014]
1 The Light of Day
2 Hell Hounds of Krim
3 21st Century Schizoid Man

DVD
Toronto concert audio 24/48
Live in America audio 24/96
Plattenlabel:
DGM
Veröffentlichung:
02.06.2017
Artikelzustand:
neu & versiegelt
Gewicht:
180 Gramm