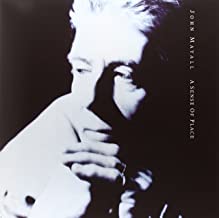 A Sense Of Place
LP
Künstler: John Mayall & The Bluesbreakers
John Mayall & The Bluesbreakers: A Sense Of Place
LP
180 Gramm Vinyl

neu & versiegelt

Label: Island

Mastered at Bernie Grundman Studios
As the elder statesman of British blues, it is John Mayall's lot to be more renowned as a bandleader and mentor than as a performer in his own right. Throughout the '60s, his band, the Bluesbreakers, acted as a finishing school for the leading British blues-rock musicians of the era. Guitarists Eric Clapton, Peter Green, and Mick Taylor joined his band in a remarkable succession in the mid-'60s.
Mayall`s true genius is as a catalyst. On A Sense of Place he combines members of his touring group with hired hands like Louisiana slide guitar whiz Sonny Landreth, resulting in his best work in years. Traditional blues tunes "I Want to Go" and "All My Life" rub shoulders with New Orleans funk on "Congo Square" and even a spirited cajun romp on "Sugarcane." Clapton-esque guitarist Coco Montoya struts his stuff on "I Can`t Complain," while Landreth`s slide work permeates the album. But it's with his sparkling piano work and vocals on his old-timey "Send Me Down to Vicksburg" that Mayall reminds us of why he deserves the top billing.
Recorded Beetween December 4-19, 1989 at Master Control Burbank and Control Center Studio, Los Angeles.
"Black Cat Moan" recorded at Paramount Studios / piano on "Send Me Down To Vickburg" recorded at Daily Planet Studio, Memphis.
Tracklist:
Side 1
I Want To Go
Congo Square
Send Me Down To Vicksburg
Without Her
Sensitive Kind
Side 2
Jacksboro Highway
Let's Work Together
I Can't Complain
Black Cat Moan
Sugarcane
All My Life
Plattenlabel:
Island
Veröffentlichung:
20.06.2014
Artikelzustand:
neu & versiegelt
Gewicht:
180 Gramm