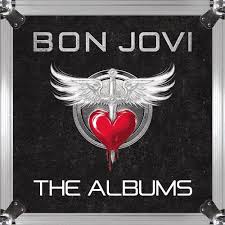 The Albums- Limited 25 LP Vinyl Boxset
25 LP Boxset
Künstler: Bon Jovi
Bon Jovi: The Albums
Limited 25 LP Vinyl Boxset
180 Gramm Vinyl
neu & versiegelt

Label: Island
Date of release: 10.02.2017
25 LP box set preserves original look and feel of Bon Jovi's career vinyl releases
With more than 130 million albums sold, an extensive catalog of hit anthems, and nearly 3,000 concerts performed in 50 countries for more than 35 million fans, Bon Jovi is simply one of the world's most successful bands, ever.
From ubiquitous hits such as "Livin' On A Prayer," "You Give Love A Band Name," "Bad Medicine," "Always" and "It's My Life," to back-to-back-to-back-to-back No. 1 albums, Bon Jovi has created an ongoing legacy. This massive career spanning, 17 albums (25 LPs) vinyl set preserves the original look and sound of the originals — all LP jackets are exact replicas of the original album cover and songs have been mastered to the band's specifications to ensure exceptional audio quality.
This premium set includes all of the band's studio albums from Bon Jovi (1984) through This House Is Not For Sale (2016) plus a handful of premium bonus titles including Jon's solo albums Blaze of Glory (1990) and Destination Anywhere (1997) and compilations Burning Bridges (2015) and Extras (2017).
This is the first time Bon Jovi's albums from the 2000s have been pressed in any territory before, others will receive their first-ever U.S. vinyl releases, while many are being pressed for the first time in decades.

Albums:
1. Bon Jovi (1984) 1xLP
2. 7800o Fahrenheit (1985) - 1xLP
3. Slippery When Wet (1986) - 1xLP
4. New Jersey (1988) - 2xLP **new double-LP format
5. Keep The Faith (1992) - 2xLP
6. These Days (1995) - 2xLP
7. Crush (2000) - 2xLP **previously unreleased on vinyl
8. Bounce (2002) - 1xLP **previously unreleased on vinyl
9. Have A Nice Day (2005) - 2xLP **previously unreleased on vinyl
10. Lost Highway (2007) - 1xLP **previously unreleased on vinyl
11. The Circle (2009) - 2xLP **previously unreleased on vinyl
12. What About Now (2013) - 2xLP **previously unreleased on vinyl
13. This House Is Not For Sale (2016) - 1xLP
14. Blaze Of Glory (1990) (Jon Bon Jovi)
15. Destination Anywhere (1997) (Jon Bon Jovi) **previously unreleased on vinyl
16. Extras - 1xLP – rarities disc comprised of bonus tracks from 2000-2007 **previously unreleased on vinyl
Plattenlabel:
Island
Veröffentlichung:
10.02.2017
Artikelzustand:
neu & versiegelt
Gewicht:
180 Gramm