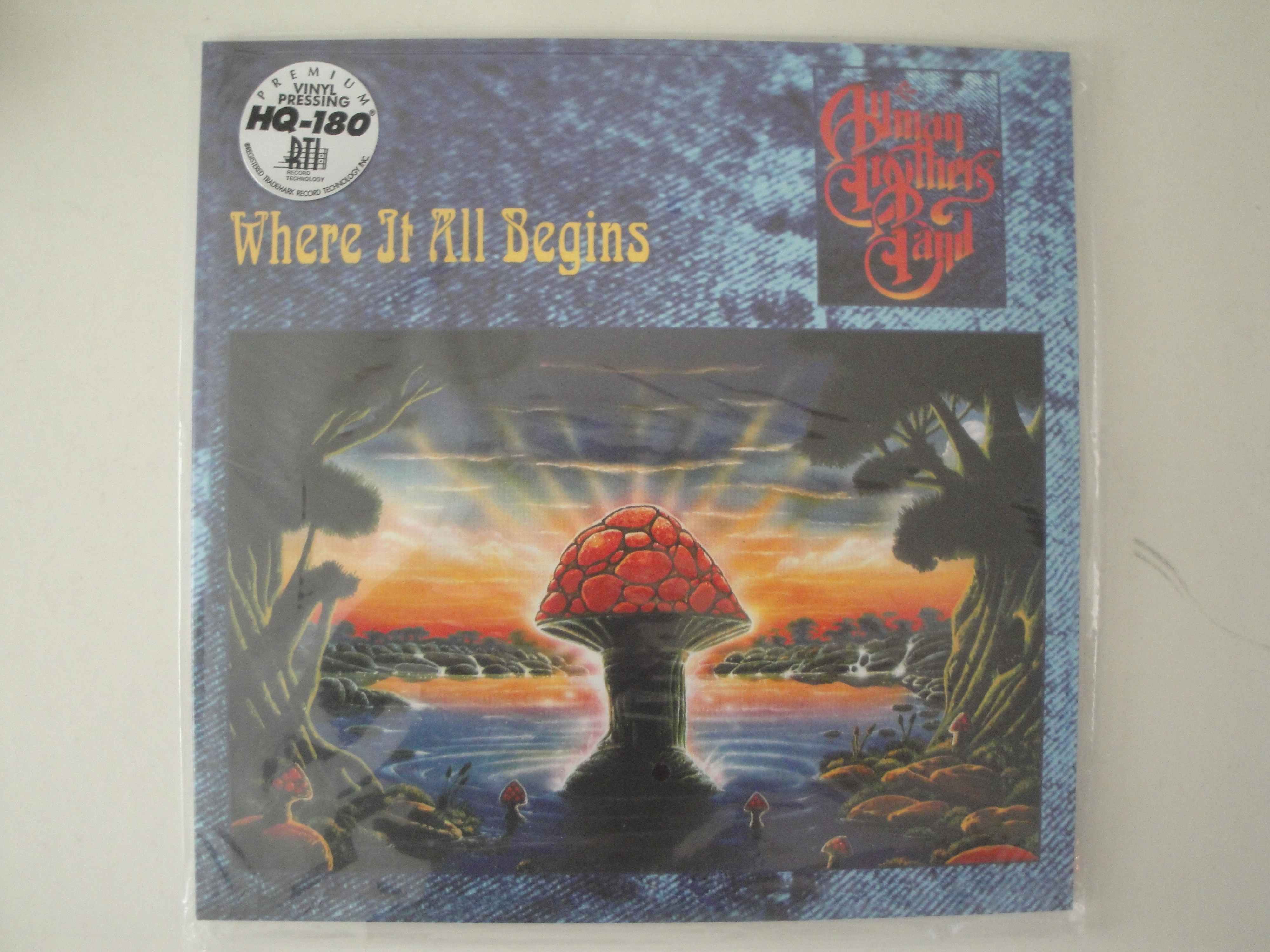 Where It All Begins (BLAUES Vinyl)-Copy
2 LP (RED & ORANGE Vinyl)
Künstler: The Allman Brothers Band
The Allman Brothers Band: Where It All Begins
2 LP
180 Gramm audiophiles GOLD & ROT- farbenes Vinyl

+ Poster
neu & versiegelt / new & sealed
sofort lieferbar / on stock
Label: Friday Music, USA

Limited edition 180-gram translucent gold and red swirl colored vinyl

Gatefold cover with 24-inch front cover poster!

Pressed at RTI

Features classic Allman tracks: "No One To Run With," "Soul Shine," "All Night Train" and more!

The Allman Brothers Band: Gregg Allman, Dickey Betts, Butch Trucks, Jaimoe, Warren Haynes, Marc Quinones and Allen Woody

The Allman Brothers Band will always be known as one of the first rock super groups of the late 1960s who had a knack of mastering rock and blues grooves drenched in gospel, soul and country rock. With a plethora of amazing albums over their five-decade career, The Allman Brothers Band truly created some of the finest music ever waxed for the classic rock era.

After a long hiatus, The Allman Brothers greeted the '90's with a smokin' line-up and a great new recording with "Where It All Begins." This stunning release featured a good amount of rock radio classics such as "No One To Run With" and "All Night Train" and "Soulshine."

More classics abound with Dickey Betts' & Warren Haynes' workout on "Mean Woman Blues," the Gregg Allman/Neal Schon/Jonathan Cain classic "Temptation Is A Gun," plus a blues rocker "What's Done Is Done."


Augmented with superior improvisational jamming, plus three exciting new band members — the legendary Warren Haynes (guitar), the late great Allen Woody (bass) and Marc Quinones (percussion), this amazing rock classic has never been available on vinyl on these shores... that is until now....
Mastered impeccably by Joe Reagoso (Allman Brothers Band/Johnny Winter) at Friday Music Studios and Capitol Mastering in Hollywood and manufactured at R.T.I., this limited edition 1994 classic truly reaches sonic heights courtesy of four sides of first time audiophile vinyl greatness.
Side 1
1. All Night Train
2. Sailin' 'Cross The Devil's Sea
Side 2
1. Back Where It All Begins
2. Soulshine
Side 3
1. No One To Run With
2. Change My Way Of Living
3. Mean Woman Blues
Side 4
1. Everybody's Got A Mountain To Climb
2. What's Done Is Done
3. Temptation Is A Gun
Plattenlabel:
Friday Music, USA
Veröffentlichung:
13.08.2019
Artikelzustand:
neu & versiegelt
Gewicht:
180 Gramm