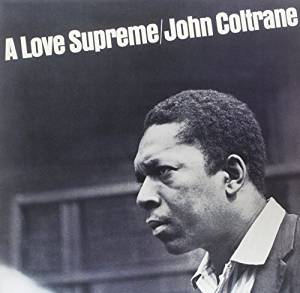 A Love Supreme (Acoustic Sounds Series, USA)
LP
Künstler: John Coltrane
John Coltrane: A Love Supreme

Acoustic Sounds Series


LP


180 Gramm Vinyl


Klappcover / gatefoldsleeve

neu & versiegelt / new & sealed

sofort lieferbar / on stock

Label: Impulse

Quality Records Pressing, USA

Acoustic Sounds Series reissues from Verve/Universal Music Enterprises!

Mastered by Ryan K. Smith at Sterling Sound from the original analog tapes

180-gram LPs pressed at Quality Record Pressings!

Stoughton Printing gatefold old-style tip-on jackets

Series supervised by Chad Kassem CEO of Acoustic Sounds


Seeking to offer definitive audiophile grade versions of some of the most historic and best jazz records ever recorded, Verve Label Group and Universal Music Enterprises' new audiophile Acoustic Sounds vinyl reissue series utilizes the skills of top mastering engineers and the unsurpassed production craft of Quality Record Pressings. All titles are mastered from the original analog tapes, pressed on 180-gram vinyl and packaged by Stoughton Printing Co. in high-quality gatefold sleeves with tip-on jackets. The releases are supervised by Chad Kassem, CEO of Acoustic Sounds, the world's largest source for audiophile recordings.
John Coltrane's immortal Impulse! records, A Love Supreme (1964) and Ballads (1963) both have drawn rave reviews since their original release. In fact, jazz critics have lauded A Love Supreme as Coltrane's most important recording. The rave reviews which appeared in the magazines Downbeat, Jazz Hot, Jazz Podium and Swingjournal reflected this: critics all over the world, in America, Europe and Japan recognized that Coltrane's deep religious belief had influenced both his approach to life and his music-making.
A Love Supreme was his pinnacle studio outing that at once compiled all of his innovations from his past, spoke of his current deep spirituality, and also gave a glimpse into the next two and a half years (sadly, those would be his last). Recorded at the end of 1964, Trane's classic quartet of Elvin Jones, McCoy Tyner, and Jimmy Garrison stepped in and created one of the most thought-provoking albums of their relationship.
The album not only enabled Coltrane to express himself with great intensity but also lent him the necessary inner peace to conceive a work of almost 40 minutes in length and to lead his quartet along the same path as himself.


Tracklist:


Part I - Acknowledgement
Part II - Resolution
Part III - Pursuance / Part IV - Psalm
Plattenlabel:
Impulse
Veröffentlichung:
09.10.2020
Artikelzustand:
neu & versiegelt
Gewicht:
180 Gramm